Home
•
Project Portfolio
•
Contact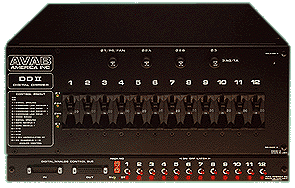 The DDI was originally developed in 1982 and was the first microcontroller-based digital dimmer. Prior to the introduction of DMX-512 it used a proprietary serial protocol. The DDIIB offers stored presets in the dimmer, analog control of backup presets, a built-in architectural control interface and an operator interface terminal. The DDIIB is still on the market in 2002!
ICD developed the 8051 firmware that controls the DDIIB.
ICD does not manufacture or support the DDIIB, which is a product of AVAB America. Please contact them directly for more information or help regarding their product line. Thank you.
AVAB America, Inc.
Telephone: (707) 778-8990
Website: http://www.avab.com/
Home • Project Portfolio • Contact