The DMXTool is a handheld DMX-512 test instrument developed by ICD for BBI Engineering. Based on the Dallas 87C520 processor, the DMXTool is a micropower design, incorporating a buck-boost switching power supply that allows for operation from a 4 cell (6 volt nominal) dry battery pack over a range of 1.5 to 6 volts. This wide input voltage range allows for full utilization of available battery capacity.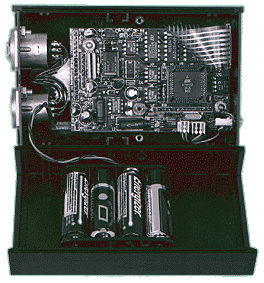 ICD developed the complete product from specification to user manuals, including electronic hardware, software, membrane switch, packaging and production documentation.
ICD does not manufacture or support the DMXTool, which is a product of BBI Engineering. Please contact them directly for more information or help regarding their product line. Thank you.
BBI Engineering, Inc.
Email and Telephone: Click here for their contact information page.
Website: http://bbinet.com/