Photos © 1997 Mark Jensen
Developed jointly by ICD and BBI Engineering, the CD80 Retrofit is a DSP-based replacement electronics package for the Strand CD80™ dimmer rack. The Retrofit is an "absolute RMS output" dimmer, which will supply a constant RMS voltage to the output load regardless of input voltage waveform distortion. It samples the incoming AC waveforms (on each of the three phases) at 22KHz, and computes the correct firing angle based on the RMS input voltage. Corrections take place on the following half cycle. The Retrofit provides dual, optically isolated DMX-512 inputs, as well as a Windows based graphical user interface for dimmer configuration and testing.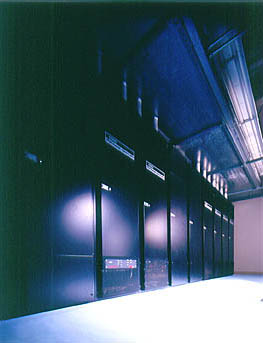 BBI's CD80 retrofit is designed to be installed using simple hand tools, with no modification to the racks. (see installation photos)
ICD developed the electronic and mechanical hardware and printed circuit boards, and developed the communications and user interface software. Additionally, ICD acted as liason to the Underwriters' Laboratories during the investigation and listing of this product.
ICD does not manufacture or support the CD80 Retrofit, which is a product of BBI Engineering. Please contact them directly for more information or help regarding their product line. Thank you.
BBI Engineering, Inc.
Email and Telephone: Click here for their contact information page.
Website: http://bbinet.com/