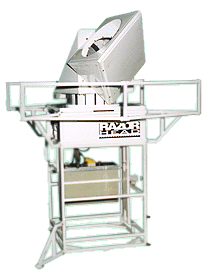 Photo: © 1999 Mark Jensen
The Xenotech/Strong Razorhead is a DMX512 controlled mirror head designed for use with the Xenotech 7Kw Xenon Britelight head. It provides an intense, rapidly positionable beam with DMX control of Pan, Tilt, Focus, Scroll and Douser. Full 360 degree operation of both pan and tilt is possible, with a maximum spin speed of 2 revolutions per second (120 RPM). Spin operation is possible even on consoles that do not support "roll-over" of position using a seperate "spin" control channel.
Using a modified version of the MKV Automated Britelight motion system, the Razorhead is fully compatible with the Britelight. Most of the motion control processor plug-in cards are interchangeable between the two products, and the user interface is nearly identical.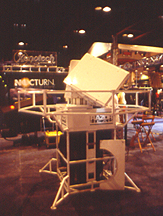 Photo: © 1998 Mark Jensen
The Razorhead provides many of the same operational features as the Britelight, including constant power ouptut, scalable DMX control range and stand-alone cue cue loops.
ICD specified and designed this second-generation motion control, ballast control and user interface hardware which was to replace the original motion package in units delivered after June 1, 1999.
ICD does not manufacture or support the Razorhead, which was a product of Xenotech. Xenotech has since changed hands a couple times, and are currently owned by Arc Light Efx. Please contact them directly for more information or help regarding the Xenotech product lines. Thank you.
Arc Light Efx


Telephone: (818) 394-6330


Email: Click here for their email form.
Website: http://www.arclightefx.com/